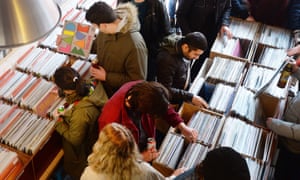 Sales of vinyl in 2016 reached a 25-year high as consumers young and old have once again embraced physical formats of music.
More than 3.2m LPs were sold last year, a rise of 53% on last year and the highest number since 1991 when Simply Red's Stars was the bestselling album. This was also the first year that spending on vinyl outstripped that spent on digital downloads.
The deaths of some music world giants was a key driver in vinyl sales, as people invested in records as a mementos. After David Bowie's death he became the bestselling vinyl artist of 2016, with five albums posthumously featuring in the top 30.
His album Blackstar, which was shortlisted for a Mercury prize, was the most popular selling album of the year, while The Rise And Fall Of Ziggy Stardust, Hunky Dory, Nothing Has Changed and Changesonebowie were also popular LPs.
The statistics, compiled by BPI, show that this is the ninth consecutive year that vinyl has grown, thanks to events such as record store day, which has now become a nationwide phenomenon, and the increase in shops selling vinyl. Supermarkets such as Tesco now stock vinyl and both HMV and Rough Trade have created more floor space to sell more records.
At least 30 albums sold more than 10,000 copies in 2016, a stark contrast to 2007 when digital downloads began to take hold and a meagre total of 200,000 LPs were sold overall.bronguardian